How about another House/Cameron fanmix? No? YES! Let the madness begin.

Just a caveat. Contrary to its upbeat appearance, the song choices are rather dark and angsty so expect this to be anything but upbeat. (Happy does not equate this 'ship!) There are, however, some uplifting positive songs in there. Somewhat. xD Oh and I'm using box.net to upload these individually now so they won't run out but I included a zip anyway. *nod nod*

Okaaaay. You guys know the drill. Comments are golden and much much appreciated.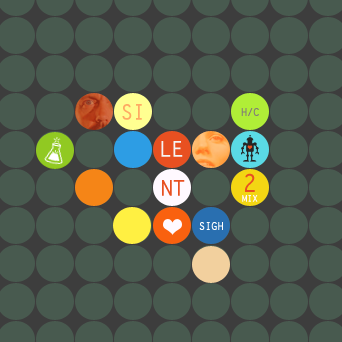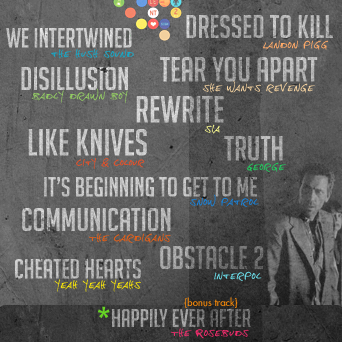 [BOX.NET LINKS] | [ZIP]
(do not redistribute the links!)




1. Dressed to Kill - Landon Pigg
are you wondering / wondering if I like you? / or are you wondering / if I care at all /
cause all that you're getting / all that you're getting is glances / and if you're lucky, a stare

2. We Intertwined - The Hush Sound
innocence was the key I was locked up never free / until you turned me

3. Tear You Apart - She Wants Revenge
it's only just a crush, it'll go away / it's just like all the others it'll go away /
or maybe this is danger / and you just don't know / you pray it all away but it continues to grow

4. Disillusion - Badly Drawn Boy
seems you created your own illusion / fuelled by an image of me /
well I couldn't stay at your side / I wouldn't be right / a picture that I just don't see

why do you have to make it so complicated / can't it just be beautiful /
I don't want to stifle your flight / I didn't mean to fall in love

5. Rewrite - Sia
I'm an empty space / I can't be replaced /
so when you're finished with this dream / delete begin to rewrite me

6. Like Knives - City & Colour
your words are like knives / they peel my skin and pierce my soul

7. Truth - george
I see your truth and you see mine / we shock ourselves with the imagery /
only cause I hold up the mirror / and I show you me and you show me yourself

8. It's Beginning to Get to Me - Snow Patrol
it's beginning to get to me / that I know more of the stars and sea / than I do of what's in your head

9. Communication - The Cardigans
I never really knew how to move you / so I tried to intrude through / the little holes in your veins

10. Obstacle 2 - Interpol
if you can fix me up, girl, we'll go a long way

11. Cheated Hearts - Yeah Yeah Yeahs
cheated by / the opposite of love / held on high / from up up up above


{bonus track}
12. Happily Ever After - The Rosebuds


---
Note: If the zip runs out, feel free to give me a holler and I'll be happy to upload another one.

I've also uploaded previous fanmixes to Box.net. Here's what's available so far:
All fanmixes are up on Box.Net! (simply check the posts individually) ;D